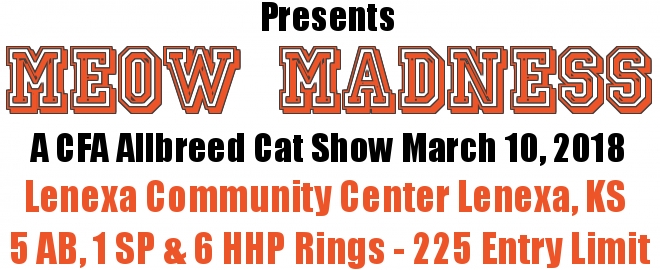 Judges
Brian Pearson - Allbreed/HHP
Beverly Wood - Allbreed/HHP
Kathy Black Ammons - Allbreed/HHP
John Hiemstra - Allbreed/HHP
Cathy Dinesen - Allbreed/HHP
Jim Dinesen - Specialty/HHP

Show Managers
Jennie Batten
thechirpycats@gmail.com
Phone: 816-824-1869
John Sullivan
john.sullivan@westwoodks.org
Phone: 913-207-1214
Our Show Photographer is Cherie with Hidden Rock Ranch
Cage Decorating Contest
Decorate your benching area for Meow Madness. Exhibitors must be entered
in the show to participate. Prizes will be given to the 1st, 2nd and 3rd place winners.
FREE Extra 1/2 Cage Space with Your 3, 5 & 7 Entries!!

Entry Clerk
Sheryl Zink
sazink@att.net
6427 Singing Creek Ln Spring, Tx 77379
Phone:281-379-3897
Please no calls after 10 pm
Closing Date
Tuesday 3/6/18 @ 11:59 pm CDT
or @ 225 entries

Entry Fees
1st Entry (includes a catalog) $55
2nd Entry (Same Owner) $50
3rd Entry (Same Owner) $45
Each HHP Entry $30
Extra 1/2 cage space $25
Grooming Space $30
End of Row (free for Handicapped) $15
Returned Check Fee is $75






Entry & Payment Info: Entries are accepted now. Entry Fees include CFA & Regional surcharges. Per show rule 6.21 each entry must be accompanied by the stipulated entry fee. All online/fax entries must be paid in full within 10 days of receipt or prior to the start of the show, whichever is first. Make checks payable to Mo-Kan Cat Club, Inc. PayPal is accepted; send PayPal payments to mokancatclub@gmail.com. Please confirm online entries by email with the entry clerk. No substitutions after the closing date. No refunds after the entry clerk has confirmed your entry or for failure to bench. Check your confirmation for accuracy and contact the entry clerk with any corrections BEFORE CLOSING DATE.
Show Hall: Lenexa Community Center 13420 Oak St. Lenexa, KS 66215 Ph: 913-477-7100. The show hall is handicapped accessible. It is heated and air conditioned. Smoking is not permitted indoors. Parking is free. Food will be available in the show Hall for the Exhibitors.
Show Hours: Check-in Saturday - 7:30 a.m. – 8:30 a.m. The Advertised show hours will be 9 am - 4 pm. All entries with the exception of kittens and HHPs must remain in the show hall until the advertised closing time. Early departure without permission from the show manager may result in all wins being voided.
Local Hotel Info: There is no official show hotel; the closest pet friendly hotel is La Quinta Inn Kansas City Lenexa 9461 Lenexa Dr. Lenexa, KS 66215 Ph: 913-492-5500. Use CFA discount code catfan9. The LQ is about 5 minutes from the show hall.
Scoring: This show is licensed by The Cat Fanciers Association, Inc. All CFA rules will be strictly enforced. A copy of the rules may be obtained from CFA for $7 at 260 E. Main St., Alliance, Ohio 44601. All entries in Championship (except Novice), Premiership (except Novice), registered Kittens, recorded Household Pets, and registered cats competing as Household Pets with an Household Pet color class prefix will be scored for CFA awards. Owners of novices can contact the entry clerk for a temporary registration number. Kittens may be entered without registration numbers, but will not be scored for CFA awards if a number is not provided at show time. Kittens without a registration number or TRN will not be included in the count.
Benching: Please indicate if you need to use a wire cage. Wire cages are available and you are welcome to do the self set-up. A single cage is approximately 21 x 21 x 21 and is included with your entry; double cages are approximately 21 x 21 x 42. One cat or two kittens per half cage is allowed. Single entries with ANY size Security cage require the purchase of an extra 1/2 cage.
Supplies: Litter will be provided. Bring your own litter pans, cat food dishes and water dishes. Bring cage curtains of your choice to cover the cage sides, back, and top.
Household Pets: All entries must be at least 4 months old; all entries 8 months or older must be neutered or spayed. Entries may not be declawed.
Health: THIS IS A NON-VETTED SHOW. It is strongly advised that all cats or kittens entered or present in the show hall be inoculated before entry by a licensed veterinarian against feline panleukopenia (formerly known as feline distemper or feline infectious enteritis), feline rhinotracheitis, Calicivirus and rabies. It is also strongly recommended that cats and kittens be tested and found negative for FeLV before entry. All claws of all entries must be clipped prior to benching. Declawed cats are not eligible for competition (including HHPs). NO KITTENS UNDER 4 MONTHS of age will be allowed in the show hall. This show rule will be strictly enforced.
New exhibitors should go to http://www.cfanewbee.org for information on showing in CFA. Please advise the club representative at check in that you are a new exhibitor so we can answer any questions you might have.
Neither the Mo-Kan Cat Club nor the City of Lenexa will be liable for any loss or damage of personal property.
Emergency Vet: VCA Mission, KS 913-722-5566